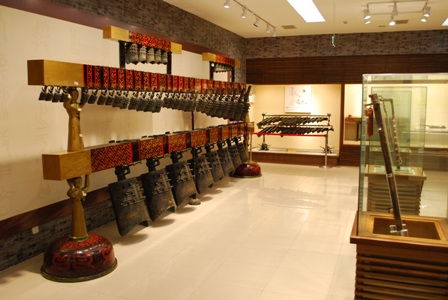 曾侯乙编钟
1978年,从湖北随县擂鼓墩一号墓出土的曾侯乙编钟是迄今所见规模最大的编钟,全套编钟由64件钟和1件镈(为楚王所赠)组成,总重量达2,500多公斤。分三层悬挂,上层都挂钮钟;中、下层都挂甬钟。每个钟都能发双音,即敲击其"正鼓部"或"侧鼓部"能发出互为大三度或小三度的两个不同音高。这套编钟的大部分音区已有完整的十二个半音,总音域达五个八度。各钟体上的乐律铭文总共有2,800多字,它向世人展示了前所未知的乐律体系,是珍贵的资料。曾国用浊割先聿(B)、割先聿(C)、浊坪皇(#C)、坪皇(D)、浊文王(bE)、文王(E)、浊新钟(F)、新钟(#F)、浊兽钟(G)、兽钟(bA)、浊穆钟(A)、穆钟(bB)等为十二律律名。铭文中还有一套完整的十二音名体系,除了我们今天熟悉的宫(do)、徵(sol)、商(re)、羽(la)、角(mi)外,还有宫甫页(mi)、徵甫页(si)、商甫页(升fa)、羽甫页(升do)和宫曾(降la)、徵曾(降mi)、商曾(降si)、羽曾(fa)等。学术界称之为"甫页曾体系"。
ZENGHOU YI BIANZHONG: COLLECTED BELLS FROM THE TOMB OF YI, MARQUIS ZENG
The largest collected bells ever found was from the Tomb of Yi, Marquis Zeng (5th century BC) in Sui County, Hubei Province. The set consists of 64 zhong bells and a bo bell (a gift from King Chu), 2,500kg, hung in three layers, the upper for niuzhong (bells vertically suspended), and the middle and the lower for yongzhong (bells hung at a slight angle). On each, two pitches, a major or a minor third apart, can be produced by striking its two different parts, the frontal or the lateral. 12 semi-tones can be heard in most part of the set, with a whole range of 5 octaves. Its valuable inscriptions, over 2,800 Chinese characters in all, unite to form a literature of an unknown temperament system. From the inscription we know that Kingdom Zeng had special names for each of the 12 pitches, and that there existed a complete set of 12 tones, each with its own name, of which we are only familiar with 5, i.e. gong (do), zhi (sol), shang (re), yu (la), and jiao (mi).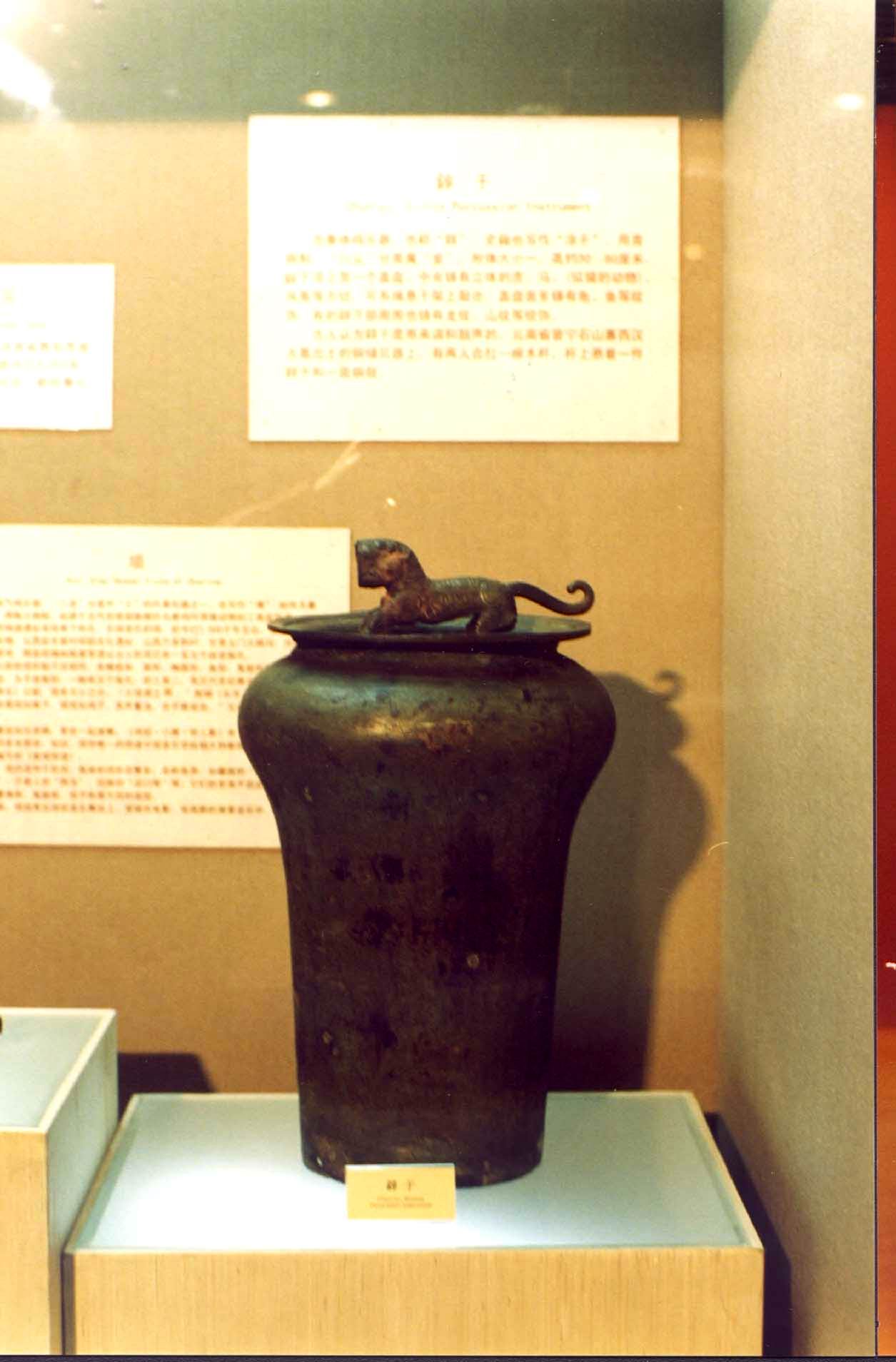 錞于
击奏体鸣乐器。用青铜制,高30~80厘米。錞于顶上是一个盖盘,中央铸有立体的虎、马、蜼(似猿的动物)、凤凰等为钮,可系绳悬于架上敲击,盖盘面多铸有龟、鱼等纹饰,有的錞下部周围铸有龙纹、山纹等纹饰。
CHUNYU: BRONZ IDIOPHONE
Striking idiophone. This instrument, 30-80 cm in height, is made of bronze. On its top is a plate-shaped lid, on whose center a tiger, or a horse, or an ape-like animal, or a phoenix, is cast as a ring so as to be hung with a string on a wooden frame for the striking of the instrument. Patterns of tortoise or fish are also cast on its lid, some even with patterns of dragon or mountain on the lower part of the instrument.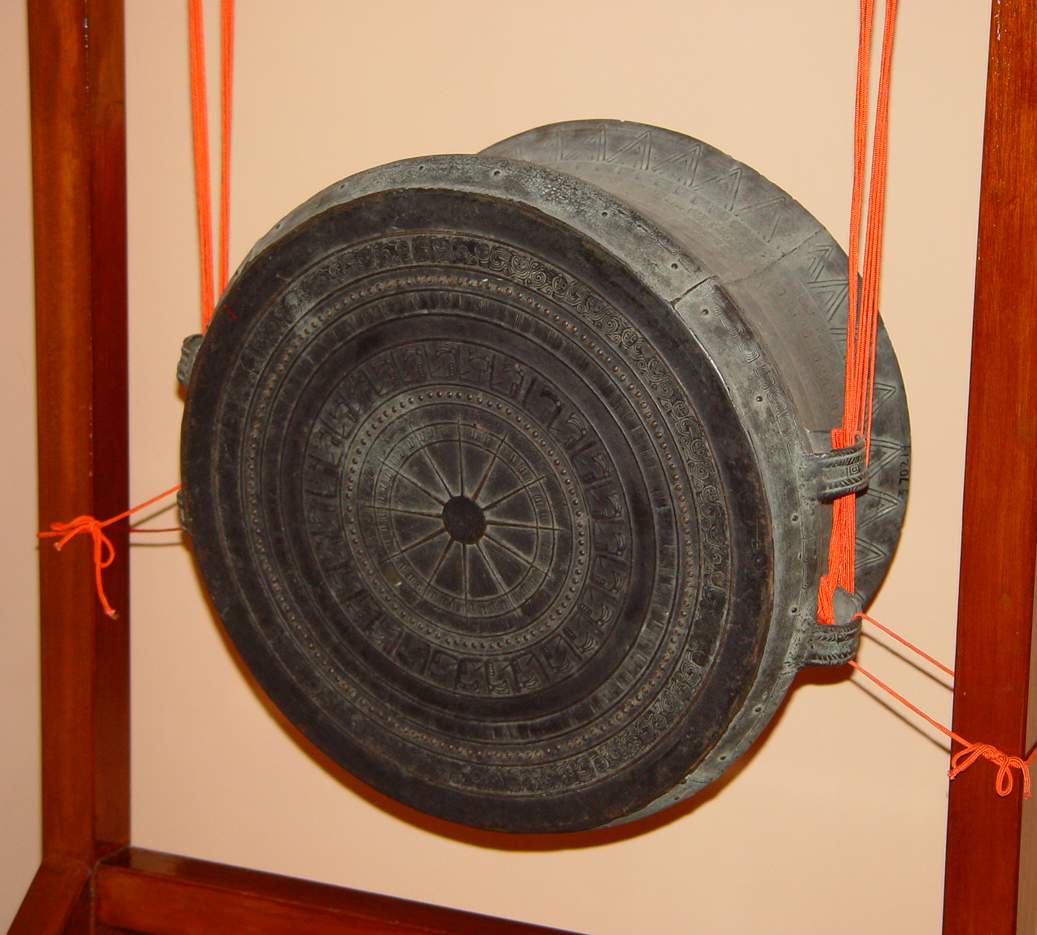 铜鼓
击奏体鸣乐器。用青铜浇铸,一般认为由炊具铜釜演变而来。云南省祥云大波那古墓出土的铜鼓晚于前者,是公元前三至四世纪的制品。现流行于广西、广东、云南、贵州、四川、湖南等省的铜鼓大小、款式、纹饰各异,其中广西出土及民间保存的数量最多。
目前所知最大的铜鼓藏广西博物馆,直径165厘米,重300多公斤。鼓面铸有立体小蛙;通体铸有细密精致的云雷纹,鱼人舞蹈图、竞渡图等。被称为"世界铜鼓之王"。
铜鼓是古代少数民族统治者权力和财富的象征。除了在祭祀、宴享、传信、战阵、婚丧及伴奏歌舞中使用外,也用作赏赐或进贡的物品。
TONGGU: BRONZE DRUM
Struck idiophone. The entire drum is a bronze cast. It is believed that the instrument came from a kind of bronze cooking pot. A later type was excavated from a tomb in the 3rd or the 4th century BC, in Xiangyun, Yunnan Province. The modern types prevalent in Guangxi, Guangdong, Yunnan, Guizhou, Sichuan and Hunan provinces vary in their sizes, shapes and decorative patterns. Most are found in Guangxi region from excavations and private collections.
The largest so far, known as "the king of world bronze drums", is kept in Guangxi Museum, 165 cm in diameter and over 300 kg in weight. On the top surface is cast a small frog; all over the drum are delicate and exquisite patterns of cloud and thunder, of fish-like dancers, and of a boat race.
The instrument symbolized the power and property of the ruling class of minority ethnic groups in antiquity. It was used in sacrificial rites, banquets, communications, battle formations, weddings, funerals, singing and dancing, and as rewards or tributes as well.

古琴(鹤鸣)
拨奏弦鸣乐器。"八音"分类中"丝"的代表乐器。张七根弦。琴的部件都有专门名称,名家藏琴,其背面多刻有名号和题词。
常用定弦为C、D、F、G、A、c、d,音域达四个多八度。面板有十三"徽",通常用贝或金、玉镶嵌,对称地排列于整根弦长的1/2,1/3,1/4,1/5,1/6,1/8处,借助徽位,可以弹奏出诸多泛音和按音。
琴的音色古朴典雅,富有韵味。它的低音区音色深沉、苍劲,中音区音色淳厚、纯净,高音区则清细、明亮,泛音则有晶莹剔透之感。琴的演奏手法繁复,常用来独奏或与洞箫合奏。
QIN: SEVEN-STRING ZITHER
Plucked chordophone. The seven-stringed zither is the silk category in Chinese ba-yin classification. Each part of the instrument has a special name. Celebrated collectors used to carve their names and inscriptions on the rear board. The common tuning of the strings is C-D-F-G-A-c-d, with its range over four octaves. On the front sound board are thirteen hui (studs), commonly inlaid with shells, gold or jade, respectively and symmetrically lined on the positions of 1/2,1/3,1/4,1/5,1/6,1/8 of the string length. By means of the hui on the sound board, various harmonics and stopping tones can be produced. Primitively simple, elegant and full of lingering charms, its tone qualities are variable: deep and vigorous in the low register, pure and mellow in the middle, and bright and delicate in the high. In addition, harmonic tones give listeners a crystal-clear feeling. Sophisticated in playing techniques, the qin is often used for solos or in duets with the vertical dong-xiao flute.